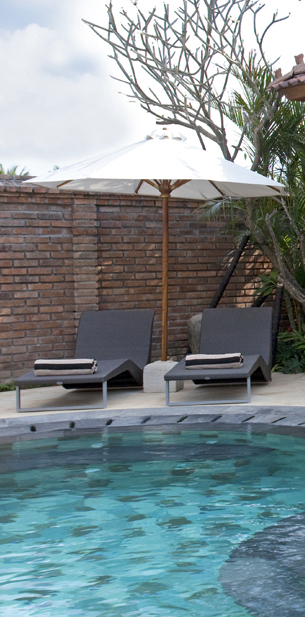 | | |
| --- | --- |
| Bedroom: | 3 air conditioned |
| Capacity/Bed: | 6 adults - 2 King-size beds – 1 convertible twin bed/king-size |
| Possibility of extra bed: | Yes 2 single bed |
| Dining room: | 1 Open |
| Kitchen: | Yes fully equiped |
| Bathroom: | 3 open |
| Swimming pool: | 15 meter free form, with gazebo and sun deck. |
| Garden: | Tropical with ponds and waterfall – 1,800 m2 |

The three-bedroom Dea Amy is fully self-contained and completely private with its own garden, swimming pool, living & dining pavilion and kitchen, while sharing the common facilities of a spa, gym, children's playground and staff service area with the other Dea Villas.

Villa Dea Amy can be rented on its own or in conjunction with one or more of the other Dea Villas, offering guests anything up to a 16-bedroom renting option.

Villa Dea Amy is an exotic blend of old and new, showcasing how the traditional wooden 'joglo' houses of Java can be upgraded with the modern comforts of the 21st century. Presenting three bedrooms and an exquisite, hand-carved, century-old, Javanese 'joglo' as its focal point, Dea Amy comprises a series of single-story buildings resting upon three levels within a tranquil tropical water garden. The main joglo – once the home of a nobleman – is incorporated within the villa's open-sided living and dining pavilion, which sits between an ornamental pond and a freeform swimming pool. One of the guest bedrooms is located on the lower level, while the master and another guest bedroom are positioned on the higher level. All of the rooms are linked by a splendid covered walkway that runs the length of the property, its alcoves and walls filled with eye-catching framed photographs taken by the owner, paintings and a fascinating collection of Indonesian and Chinese antique artifacts.

The contemporary tropical architecture of Villa Dea Amy utilizes local materials including red brick, Palimanan stone, teakwood, volcanic stone, and river rock, capped with traditional red tiles for the roofs. The eclectic interiors ooze with style, visual texture and rich fabrics, with modern teakwood and all-weather rattan furnishings, harmonized with Asian antiques and artifacts.