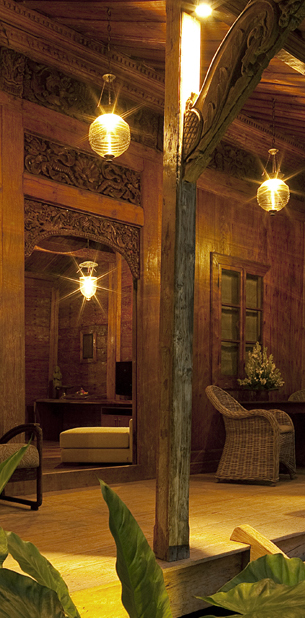 | | |
| --- | --- |
| Bedroom: | 1 air conditioned |
| Capacity/Bed: | 2 adults - 1 King-size bed – |
| Possibility of extra bed: | Yes 1 single bed |
| Dining room: | 1 air conditioned |
| Kitchen: | Yes 1 kitchenette |
| Bathroom: | Open |
| Swimming pool: | 11 meter free form, with gazebo and sun deck. |
| Garden: | Large tropical with ponds and waterfall – 600 m2 |

Radha is the childhood friend and lover of Krishna. Radha is regarded as the original Goddess or Shakti.

Villa Radha incorporates a self-contained, one-bedroom house known as the 'Gladak', which stands alone in its own beautiful garden, complete with a private swimming pool and a dedicated dining room. Villa Rhada also has its own private entrance and car parking, enabling it to be rented independently as a one-bedroom property.

The century-old Gladak House oozes romance and history, combined with luxurious furnishings and high tech facilities. This traditional teakwood building was once the home of a nobleman. The house presides over a serene water garden and is entered via a set of wooden steps. 

A gazebo is positioned next to the freeform swimming pool in a secluded private section of the magical gardens. A shower is located immediately outside.